All About Orienteering Reference Guides
We love o-store.ca's reference sheets for orienteers. These are especially great for newcomers to the sport. You can download the set for free, or you can order sets printed on waterproof paper or laminated.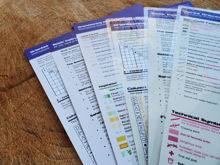 There are 3 different guides:
The Control Descriptions Reference Guide is two full pages - one sheet, double sided - of control descriptions and instructions on how to interpret them.
The Orienteering Map Legend and Sprint Orienteering Map Legend Reference Guides show you all the features you will find on an orienteering map and tells you how to interpret them.
The Orienteering Course and Basic Instructions Reference Guides show an orienteering course with pointers to get through it successfully, and give you a set of guidelines for getting started in orienteering.