Orienteering Canada Hall of Fame
Marg Ellis
Inducted in 2022 | Order of Orienteering Canada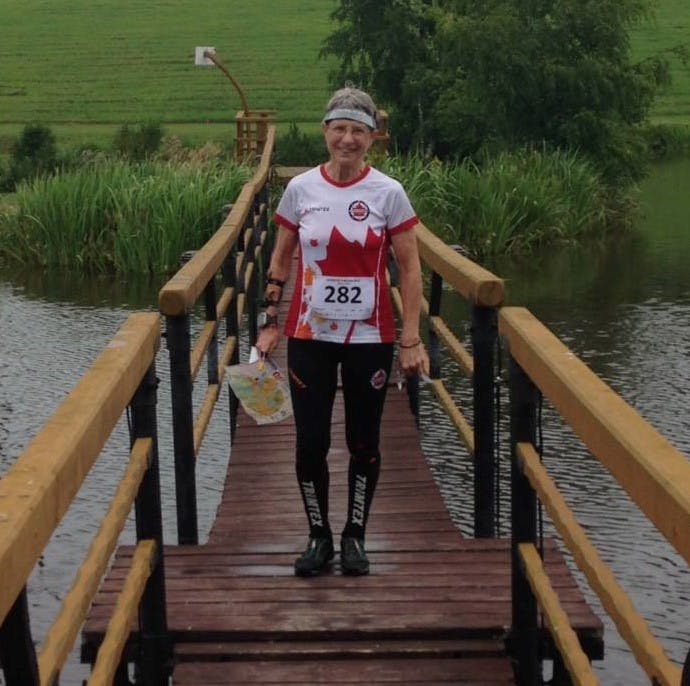 Marg started orienteering at the University of Guelph in 1973 in Sass Peepre's Outdoor Education course. She was an immediate convert to the sport. She attended the First National Orienteering Leadership Clinic (1974) in Guelph, and then, together with Juri Peepre and Brian Ellis, helped found and lead the Guelph Gators O Club. She also served as a member of the Board in Orienteering Ontario for several years in the 1980s. Marg has been active in junior coaching for many years, at the club, provincial, and national level, coaching at both the Ontario Junior Training Camp in Mansfield in 1981 and the Sass Peepre Junior Training Camp. She was a member of the Canadian Orienteering Federation committee that developed Canada's first Level I orienteering coaching manual in 1983. Since returning to BC in 1989, Marg has been a key member of the Orienteering BC (OBC) community. While OBC President, she promoted junior orienteering development in smaller communities across BC, including Kamloops, Vernon, Castlegar and Revelstoke. She has been instrumental in coach development in BC. 

Marg served as an Orienteering Canada High Performance Regional Coach from 2017 to 2019 and was appointed as Coach/Manager of the Canadian O team at the World Games in Poland in 2017 and the World University Orienteering Championships in Finland in 2018. She is currently chairing the High Performance Committee which oversees the Team Canada program. 

Marg was the primary author of Orienteering Canada's Long Term Athlete Development (LTAD) manual Marg also developed BC's LTAD implementation plan. She has recently been involved with the Orienteering Canada officials committee and has helped to update the program. She became Canada's first female IOF Event Advisor and has volunteered at many club, provincial and national events – obtaining permissions, delivering officials clinics and encouraging club members to become certified officials, directing and controlling competitions, and course planning.

As an athlete, Marg was a member of the 1976 and 1981 Canadian teams competing at the World Orienteering Championships in Scotland and Switzerland, and has since competed in many World Masters Orienteering Championships.

Marg's involvement in every aspect of orienteering over 50 years has had a phenomenal impact on Canadian orienteering.
View all the Hall of Fame Inductees