Adrian Zissos Orienteering Development Grant
About the Grant
Orienteering Canada is pleased to announce a new grant program funded by money that Adrian Zissos bequeathed to Orienteering Canada. Three grants of up to $1000 each are available annually to projects that do at least one of the following (with a view to long term growth for the sport of orienteering)
Develop orienteering in a new geographical area (mapping, officials/coach training of individuals in new area, starting a new club);
start a new and distinctive program or expand an existing program in a distinctive way; or
promote collaboration between orienteering clubs and associations with a new initiative.
The goal of this grant program is to encourage clubs to push beyond what they have traditionally been doing; to try new initiatives that will help to grow and modernize the sport. 
About Adrian Zissos
Adrian's legacy in the sport of orienteering is profound and wide-ranging and has changed the face of Canadian orienteering. Adrian tried orienteering for the first time in the mid 80s, got hooked, starting volunteering with the 1990 World Cup in Alberta and subsequently went on to organize hundreds of orienteering events, from local training events to major international events. He viewed major events as a key way to galvanize clubs, create shared goals, encourage teamwork and train officials. Adrian created the "barebones" orienteering concept of simpler orienteering events, packed full of fun. He organized 19 Barebones Orienteering Festivals over the years. Adrian's leadership led to the Asia Pacific Orienteering Championships coming to Canada in 2002. Adrian was involved in many Canadian Orienteering Championships since the mid 2000s – in roles ranging through controller, course planner, event director, announcer, conference speaker, and more.  Adrian had the highest level of orienteering officiating; as an IOF Senior Event Advisor he officiated at many events in Canada and the US. Adrian's favorite volunteer job was course planning and he mentored many officials over the years. He also relished the challenge of helping to develop orienteering in new areas in Canada.
As a promoter and mentor, Adrian excelled at helping newcomers to orienteering feel welcome and connected. Adrian mentored (via coaching and encouragement) many athletes along their orienteering pathway, including athletes who competed at WOC and JWOC. He organized several high level orienteers to come to Canada to coach and lecture. Adrian wrote many articles about various orienteering ideas and new ways to do things. As a skilled photographer Adrian was able to provide superb photos for promoting the sport and events; and as an added bonus he made presentations on orienteering photography, encouraging others to take better orienteering photos.
As an administrator, Adrian was involved from the club to international levels. He was President of Foothills Orienteering, was on the Board of Orienteering Alberta, was a member of many Orienteering Canada committees, most notably the High Performance Committee. In addition Adrian sat on a number of technical committees of the International Orienteering Federation and presented at several IOF conferences. Adrian was the leader behind SOGO Adventure Running, Calgary's successful junior program that gets 1000s of kids orienteering each year.
Adrian's overwhelming strengths in orienteering environments were embedded in his personality – conscientious, attentive to detail, kind, supportive, focus on the positive side of things, and his genuine desire to improve orienteering events, publicity and "the experience" for participants and officials. Overarching everything, his enthusiasm and leadership directly affected countless orienteering volunteers in and beyond Alberta & Canada – he inspired so many people to strive for higher club goals than they would have chosen without his encouragement. Adrian died suddenly and unexpectedly in 2018.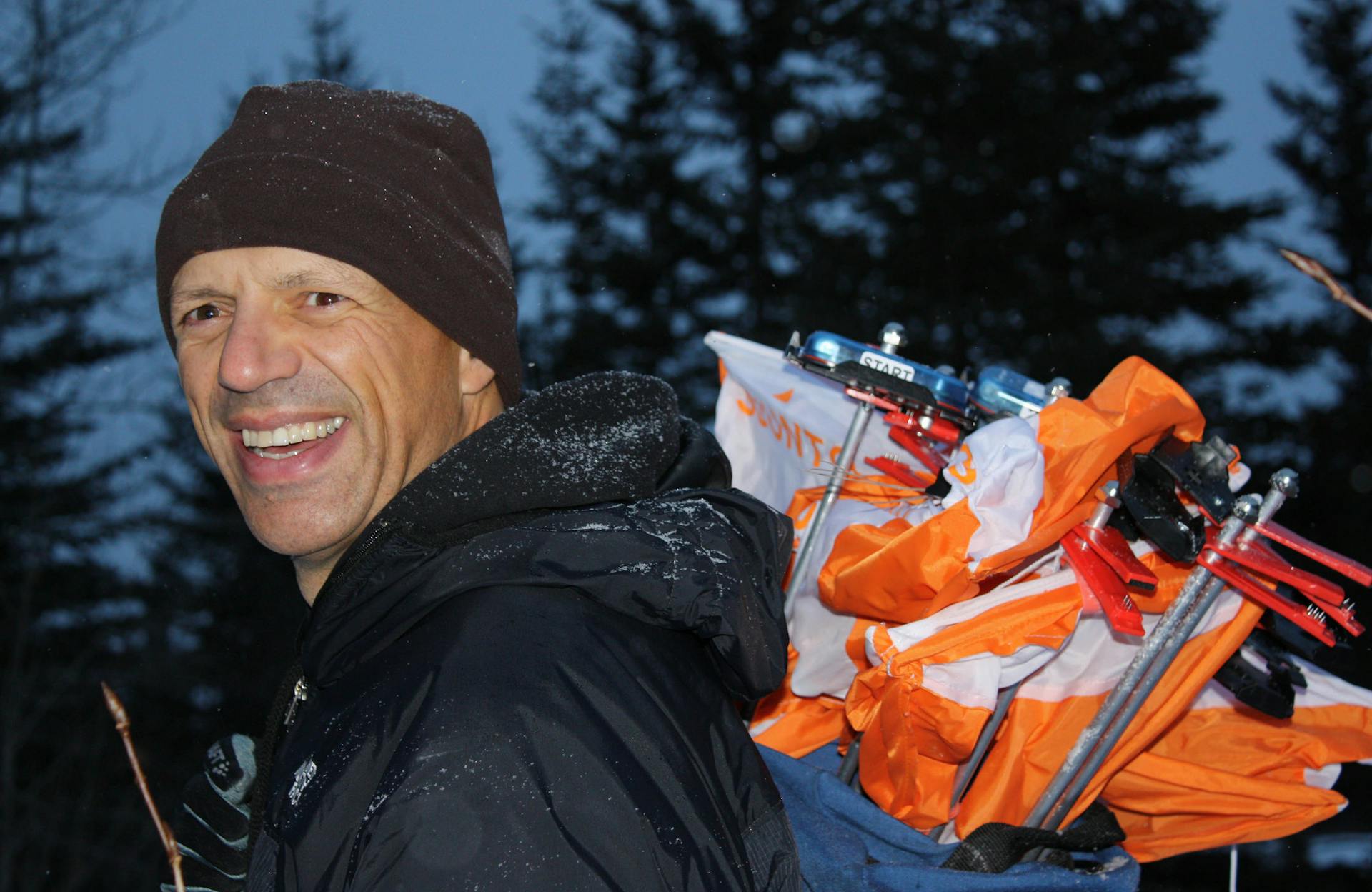 About the Application Process
Up to 3 grants of up to $1000 each will be awarded in 2023. Orienteering Canada invites affiliated Provincial/Territorial Orienteering Associations and orienteering clubs to apply for the (inaugural)  2023 granting round of the Adrian Zissos Orienteering Development Grant.
Applications will be accepted starting Sep 1, 2023 and must be received by Nov 30, 2023. (Note that we may change the application timing in future years)
The application form asks for the following information:
Name of orienteering club or provincial/territorial orienteering association
Contact information of primary contact person
Explanation of the project and how it fits within the scope of this grant application
Timing of the project (projects have already been initiated within the previous year may be considered)
Budget of the project with description of any other funding requirements
About the Selection Process
Step 1 - Orienteering Canada will receive the applications and will verify that the organization and application meet the eligibility requirements. Please note that any incomplete applications will not be considered.
Step 2 - The applications will be reviewed and decided on by the Application Review Team. The team will include an Orienteering Canada Board member, a representative from the Canadian orienteering community and Charlotte MacNaughton (Adrian's spouse),  The Review Team consider to what extent the project meets one or more of the following criteria:
develop orienteering in a new geographical area (mapping, officials/coach training of individuals in new area, starting a new club);
start a new and distinctive program or expand an existing program in a distinctive way; or
promote collaboration between orienteering clubs and associations with a new initiative.
Step 3 - All applicants will receive a notification of the decision within a month of the application deadline. If the applicant is successful, they will receive a Letter of Agreement, which must be signed and returned within three weeks of receipt, or the recipient risks withdrawal of the grant funding offer. Upon receiving a signed Letter of Agreement from the successful applicant, initial funds will be distributed approximately 4-8 weeks later.
About the Letter of Agreement
Clubs/Associations that are selected will be required to sign a Letter of Agreement that details the terms and conditions of the grant. These include:
The organization will receive 50% of the grant upon signing the Letter of Agreement, with a 50% holdback to be paid upon receipt and review of the required reports.
Final Report will detail successes, challenges, and key learnings. The Final Report is due on the date specified in the Letter of Agreement
An understanding that the project must be completed within the next 18 months (the timeline may be altered by mutual agreement).
This grant program will be reviewed annually.
Questions?
Are you interested in helping to grow this grant?
Initial funding for the awards has been provided by the money that Adrian Zissos donated in his will. In order to sustain it for many years into the future, your financial support would be greatly appreciated. You can donate to this grant program via our donation page on Canada Helps or other ways which are outlined here.